It Should Just Work.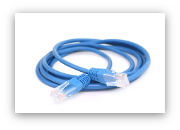 Twenty years ago, we were promised a paperless office. We were told that computers would make life easier, and less complicated. What do we have today? Computers have become just one more thing to fight with in order to get something done. Here at Incom Systems, we believe that computers should just work. Your computers can help you do business, not distract you from your business.
Incom Systems helps return sanity to you office by configuring your computers to work together on your network, managing your internet connection, and providing cabling so that you can move or add computers to your network.
Not only will Incom Systems return sanity to your office, we can examine your network security as well. Default passwords, insecure wireless access points, and many other common problems can pose a security hazard for your network. Incom systems will evaluate your security measures, and provide an outside opinion on the security of your network.
If you believe that computer networking should just work, then let us manage the details.