The Future of Telecommunications.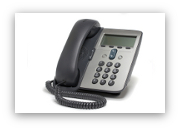 Historically, a phone system has consisted of a central switching unit, which is a piece of proprietary hardware made by a single company. Connected to that unit are individual digital phones, all made by the same company. The switching unit is connected to the public phone network. The entire system is proprietary. This means that one company designed the hardware, designed the software, and isn't telling anybody how it works. Once you invest in a certain brand, you are locked into that brand.
A VoIP phone system runs over a standard computer network, using established, open standards. A VoIP phone is basically a small computer with a handset, packaged to look like a business phone. This hardware is non-proprietary: VoIP phones are cross compatible.
At the heart of our system is Asterisk. Asterisk is an open source program that routes calls from a VoIP phone to whoever you want to talk to.
Our solution combines affordable, reliable hardware with the flexibility of open source software. We can use these tools to provide you with a phone system that matches the quality of a proprietary solution, but can be adapted to do so much more.
Two locations? We can securely connect the two systems over the internet.
A 1-800 number? We can get you a good rate by bypassing AT&T altogether.
Expensive long distance? Sip Trunking routes your calls over the internet and saves you hundreds on your long distance bill.
A VoIP Phone system is the future because it is affordable, convenient, and saves you money.